27 Wale Street
Client: 27 Wale Street (Government)
Location: Cape Town
Start Date: Monday, May 11, 2015
The Challenge: A busy city demands a different approach to remedial construction projects. In this case, the safety of pedestrians and tenants is of paramount importance. With congested roads all around the building, construction has to be meticulously planned to work around peak traffic and to ensure minimal or no disruption to the tenants or road users. 
The Solution: Scaffolding has been carefully erected and moved along in sections as the work progresses. The workforce ensures that work is carried out according to the strict guidelines provided for in the Safety, Health and Environment (SHE) file and according to safety regulations prescribed by the law and the Building Industry Bargaining Council (BIBC).
Scope of project: Structural Repairs
Browse more of our current Projects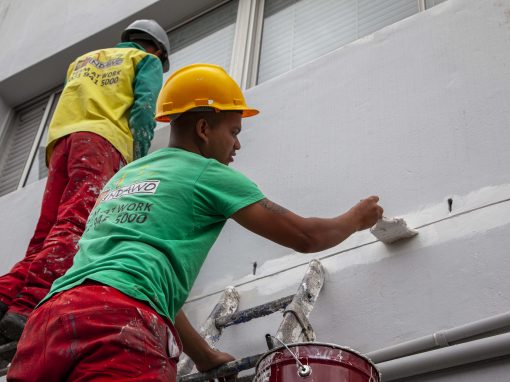 Contact Details
Need assistance for your building refurbishment or roofing project in Cape Town, Western Cape or Johannesburg or Pretoria in Gauteng, or any restoration needed from roofing to flooring, and everything in between, please do contact us or feel free to also use our quick contact on the left to request a quote, or send us an email to info@indawo.biz. Our sales consultants are eagerly waiting for your call!
Western Cape Branch - Cape Town
Unit 2, Transnet Park, Robert Sobukwe Road, Bellville, Cape Town, Western Cape, 7530
Tel: +27 (21) 941 5000 Fax: +27 (21) 946 3366
Gauteng Branch - Johannesburg
166 Golf Club Terrace, Constantia Kloof, Roodepoort, Johannesburg, Gauteng, 1709
Tel: 086 146 3296 Fax: +27 (11) 475 1307