Structural & Spalling Repairs
Structural and Spalling Repairs
Structural and spalling repairs are vital in all maintenance plans to ensure a building remains safe.
Structural and spalling repairs in Cape Town.
Indawo offers a range of structural and spalling repairs from floor to roof, including spalling repairs.
Dangers of structural and spalling damage:
Structural damage can lead to building collapse
Spalling can lead to major structural damage
Ignoring both structural and spalling damage exacerbates the problem as time goes
Not repairing structural or spalling damage will result in higher repair costs in the future
Spalling is the result of water ingress into the outer structure of a building attacking the steel reinforcing in the walls. This leads to rust developing, which expands and results in wall cracks.
Spalling repairs
Spalling, a threat for building owners
It can be said that spalling is one of the bigger threats facing building owners in coastal cities, and in higher rise buildings, the risks can be compounded. Spalling can be the cause of multiple challenges in building maintenance.
Spalling is largely a result of moisture ingress from incessant sea spray and high rainfall. In climates such as the Western Cape where winter rainfall dominates the cold season, the evaporation and drying periods after rainfall is so much longer than in other South African cities where summer rainfall occurs. Water has a longer time to find weaker entry points into outer structural walls and roofs.
Waterproofing and correct selection and application of paint and waterproofing products is critical to reduce and prevent spalling.  Moisture ingress can be attributed to various reasons, some being the exterior structure and coatings being compromised due to age, damage or incorrect products being used, or the application of products not being done according to manufacturers' specifications. Over time, this moisture ingress manifests in the rusting of steel reinforcing in the walls bringing on spalling.
Cracks initially appear and soon rust stains become evident. Larger cracks develop and plaster begins peeling off the brickwork followed by bricks splitting, which then can lead to structures failing, posing a significant threat to residents or tenants. Facilities and building maintenance managers must keep a constant lookout for signs of spalling damage.
Spalling is a concern for building owners. It can take time to reveal itself, but once there are signs of damage, it is best to address the problem right way.
In some areas, spalling damage may be limited to a small area, but it can also be a cause of significant damage to not only walls, but windows, doors and even flooring. Keep up with your maintenance regime to avoid costly repairs by identifying spalling early.
For structural and spalling repairs in Cape Town, contact Indawo today.
Using the right products is critical to ensure a guaranteed finish. In the project mentioned below, Indawo used Sika. CLICK HERE to read more about SIKA.
Some of our structural & spalling repairs projects
Structural repairs includes:
expansion Joints
plaster repairs | brickwork
substrate repairs and then tiling
screed repairs
Spalling Repairs
This includes the repairing of rust on the steel reinforcement bars used in the exterior structures of buildings.
break out sections of concrete around the affected areas
repairing of the rusted reinforcement bars
closing 
plastering and painting
Indawo's Expertise
Indawo's expertise covers industrial, commercial and sectional title properties. Technologically advanced methodologies make use of specialised repair systems and specifications.
Interested in one of our other services: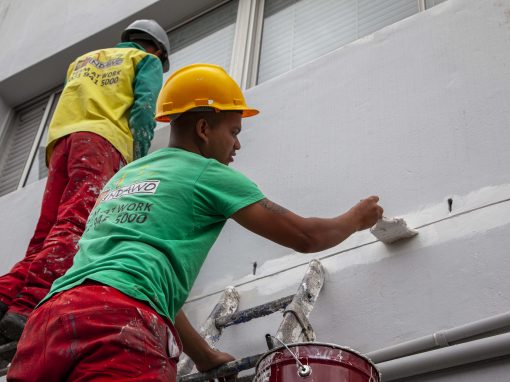 Contact Details
Need assistance for your roofing, waterproofing, asbestos removal, structural and spalling repairs, painting, flooring or heritage building projects in Cape Town, Western Cape? Contact us or use our quick contact on the left to request a quote, or send us an email to info@indawo.biz. Our consultants are eagerly waiting for your call!
Cape Town, Western Cape
Unit 2, Transnet Park, Robert Sobukwe Road, Bellville, Cape Town, Western Cape, 7530
Tel: +27 (21) 941 5000 | Email: info@indawo.biz