Sea Point Pavilion Project
Client: Sea Point Pavilion
Location: Cape Town
Start Date: Monday, July 13, 2015
Description: Lifting existing waterproofing and replacing broken pavers.
The challenge on this project was to source new pavers with the same design as the old pavers manufactured 4 decades ago.
In order to provide a cost effective solution, the same tiles had to be sourced that were initially installed many years ago. There is no supplier that supplied these tiles and they had to be made specifically for the project.
When it comes to flooring in Cape Town, Western Cape or in Johannesburg or Pretoria in Gauteng, whether it is indoors our outdoors, Indawo has the right solution for your building refurbishment needs. On top of this, Indawo remains compliant with the law, further adding to your peace of mind that Indawo has your interests forefront in their minds and the safety of its site workers taken care of. Key to this is also the fact that being compliant means our clients and Indawo always operate on the right side of the law.
According to Indawo Cape MD, Roel van der Heijden, the project proved to be an exceptional challenge with pressure on delivery within the required time standards, but we were happy to have done so in time for Cape Town's busy holiday period.
Scope of project: Construction
Browse more of our current Projects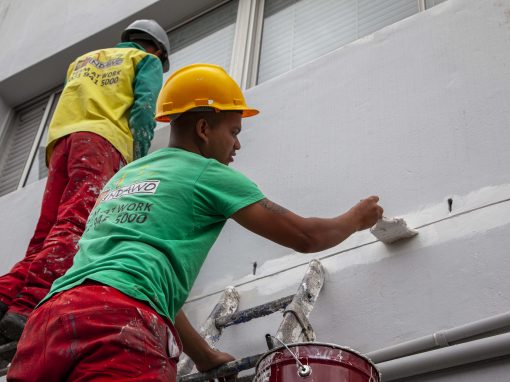 Contact Details
Need assistance for your building refurbishment or roofing project in Cape Town, Western Cape or Johannesburg or Pretoria in Gauteng, or any restoration needed from roofing to flooring, and everything in between, please do contact us or feel free to also use our quick contact on the left to request a quote, or send us an email to info@indawo.biz. Our sales consultants are eagerly waiting for your call!
Western Cape Branch - Cape Town
Unit 2, Transnet Park, Robert Sobukwe Road, Bellville, Cape Town, Western Cape, 7530
Tel: +27 (21) 941 5000 Fax: +27 (21) 946 3366
Gauteng Branch - Johannesburg
166 Golf Club Terrace, Constantia Kloof, Roodepoort, Johannesburg, Gauteng, 1709
Tel: 086 146 3296 Fax: +27 (11) 475 1307