Roofing and Waterproofing Contractor
Roofing
Nutec slate
Natural slate roofing
Pierce fixed metal roof sheeting (IBR, corrugated)
Concealed fix roof sheeting (Saflok, Kliplok, Springlok and Diamodek)
Concrete and clay roof tiles
Lead and copper roofing.
Roofing done in Cape Town can be challenging for different reasons, depending on the time of year.
Indawo is a roofing contractor and does roof repairs as well as asbestos roof removal in Cape Town, When it comes a roof, a structure that can make up to 40% of a building, various challenges face roofing contractors throughout the year.
In the summer months, intense heat, especially when doing roofing in Cape Town can be exceptionally challenging. The South African heat is a challenge for workers to produce at maximum output.
Many roofs across South Africa are still made from asbestos, which was banned in the early 1980s. New legislation is being enforced to remove damaged asbestos roofs. These projects must be undertaken by approved asbestos removal contractors. Indawo is a registered asbestos removal contractor in Cape Town, Western Cape.
Roofing contractor, roof repairs in Cape Town, Indawo are the professionals.
Indawo won the MBA Regional Health & Safety Award for its work at the V&A Waterfront. CLICK HERE to read more.
CLICK HERE to see another V&A WATERFRONT ROOFING PROJECT on our YouTube Channel
Waterproofing
Waterproofing in Cape Town, Western Cape vital in a harsh climate. Indawo uses state-of-the art waterproofing products and is an approved applicator at all major waterproofing material suppliers. Waterproofing, especially in the Western Cape, with its high winds, sea spray and incessant rainfall, is a vital element for any building or home. Using the right waterproofing product plays an important role when it comes to keeping a building dry. A range of products for roof waterproofing is available covering the roof itself as well as substructures on the roof. For outer walls, Indawo has the experience and skills to advise on the best products and paint to ensure that your building or sectional title home stays dry.
Some of our roofing and waterproofing projects below
Interested in one of our other services: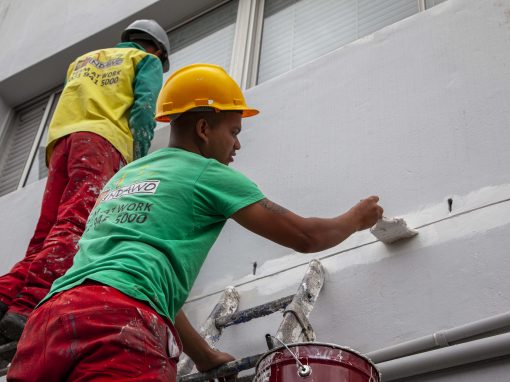 Contact Details
Need assistance for your roofing, waterproofing, asbestos removal, structural and spalling repairs, painting, flooring or heritage building projects in Cape Town, Western Cape? Contact us or use our quick contact on the left to request a quote, or send us an email to info@indawo.biz. Our consultants are eagerly waiting for your call!
Cape Town, Western Cape
Unit 2, Transnet Park, Robert Sobukwe Road, Bellville, Cape Town, Western Cape, 7530
Tel: +27 (21) 941 5000 | Email: info@indawo.biz