Heritage Buildings – roofing, painting, waterproofing, building refurbishment
Heritage roofing refurbishment maintenance in Cape Town, Western Cape.
Undertaking building refurbishment, roofing, waterproofing, painting, structural repairs, asbestos removal and flooring projects takes on a whole new meaning for heritage buildings.
Heritage buildings can be centuries old and when originally built used materials and methodologies that are outdated. Building refurbishment, roofing and asbestos removal company, Indawo is experienced in heritage building projects having completed the following projects:
Cape Town City Hall
Die Groote Kerk
University of Stellenbosch – various buildings
Jan Kriel Skool
The Clock Tower, V&A Waterfront
The Lighthouse, Robben Island
University of Cape Town – various buildings
Indawo has completed numerous roofing, waterproofing and painting projects. For a heritage building facilities manager, having a contractor with a wide range of building refurbishment skills on heritage buildings allows for peace of mind that the contract will be completed to high standards.
Indawo has solutions for heritage building challenges which are cost effective, tailored and safe.
If you need heritage building refurbishment solutions in Cape Town, Indawo has the right solution for you.
Indawo's Expertise
Indawo's expertise covers industrial, commercial and sectional title properties. Technologically advanced methodologies make use of specialised repair systems and specifications.
Redecorating heritage buildings requires a contractor with intricate knowledge of old structures. This includes the technologies used hundreds of years ago and modern technologies that will enhance the structures of such old buildings.
For heritage roofing refurbishment and maintenance contact Indawo today.
Check out the article that appeared in the media for the redecoration of the Clock Tower at the V&A Waterfront  – CLICK HERE
The article can be READ HERE
Interested in one of our other services: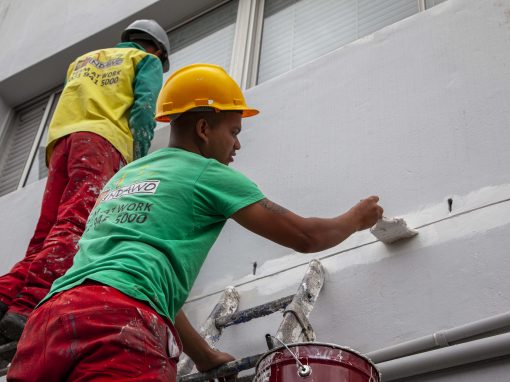 Contact Details
Need assistance for your roofing, waterproofing, asbestos removal, structural and spalling repairs, painting, flooring or heritage building projects in Cape Town, Western Cape? Contact us or use our quick contact on the left to request a quote, or send us an email to info@indawo.biz. Our consultants are eagerly waiting for your call!
Cape Town, Western Cape
Unit 2, Transnet Park, Robert Sobukwe Road, Bellville, Cape Town, Western Cape, 7530
Tel: +27 (21) 941 5000 | Email: info@indawo.biz