Avanti in Bellville moving forward with makeover of office block -The Weekend Argus Property 29 March 2015
Client: Avanti
Location: Bellville, Cape Town
Start Date: Monday, November 03, 2014
Description: Situated across the road from prime residential buildings, this office block needed to be treated with extra care and due consideration to the nearby residents.
Challenges: The project presented unique challenges in that the site is directly opposite a residential complex. The residents had to be catered for in terms of daily disruption as construction vehicles had to be used to access the top floors and roof of the building. Access to the site had to be co-ordinated with Metro Police to ensure that traffic in peak hours was not adversely affected.
The site tested Indawo's skills in a number of its service offerings including painting, waterproofing, scaffolding, structural repairs, rope access, high pressure water jetting, flooring and redecoration.
Scope of project: Waterproofing, Painting, Structural Repairs
Indawo makes it into the media again:
Browse more of our current Projects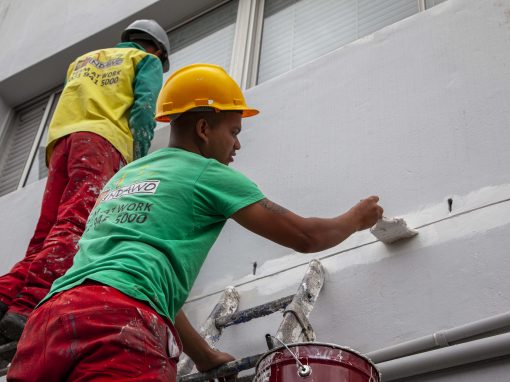 Contact Details
Need assistance for your building refurbishment or roofing project in Cape Town, Western Cape or Johannesburg or Pretoria in Gauteng, or any restoration needed from roofing to flooring, and everything in between, please do contact us or feel free to also use our quick contact on the left to request a quote, or send us an email to info@indawo.biz. Our sales consultants are eagerly waiting for your call!
Western Cape Branch - Cape Town
Unit 2, Transnet Park, Robert Sobukwe Road, Bellville, Cape Town, Western Cape, 7530
Tel: +27 (21) 941 5000 Fax: +27 (21) 946 3366
Gauteng Branch - Johannesburg
166 Golf Club Terrace, Constantia Kloof, Roodepoort, Johannesburg, Gauteng, 1709
Tel: 086 146 3296 Fax: +27 (11) 475 1307