Asbestos Removal Cape Town
Asbestos removal in Cape Town, Occupational Health & Safety and critically, worker safety should be done by contractors with the utmost care to site safety. Asbestos removal and asbestos handling is governed by the Occupational Health and Safety Act and Labour Law.
Only approved asbestos contractors are allowed to handle asbestos. The disposal of asbestos is strictly controlled and handling of asbestos carries significant threat to site workers as well as office, factory or warehouse workers and the general public.
Schools, especially are at risk of endangering the lives of children should they have buildings that were built with asbestos, and this includes roofs and guttering.
Indawo's Expertise
Indawo's asbestos removal expertise covers industrial, retail, commercial and sectional title properties. Technologically advanced methodologies make use of specialised repair systems and specifications. 
Indawo is an approved asbestos contractor at the Department of Labour.
DID YOU KNOW?
Indawo recently won the coveted MBA Health and Safety Award 2019 for its asbestos roof replacement work done at the V&A Waterfront in Cape Town, Western Cape, cementing our status as a leading asbestos contractor in Cape Town.
CLICK HERE to read about our award.
Indawo is a member of MBA and we ensure we remain compliant at all times…CLICK HERE to read about the MBA
Some of our asbestos removal, roofing and other projects in Cape Town
DID YOU KNOW?
Asbestos has finally been outlawed.
The Asbestos Abatement Regulations 2020 stipulates that all building owners must identify, document and plan for the removal of damaged asbestos, and that this needs to be done within 14 months from November 2020.
Only registered asbestos contractors may remove damaged asbestos and depending on the asbestos status, these contractors must be registered with the Department of Employment and Labour.
Asbestos removal in Cape Town, Western Cape must be done by approved, registered asbestos 1, 2 and 3 asbestos contractors.
Interested in one of our other services: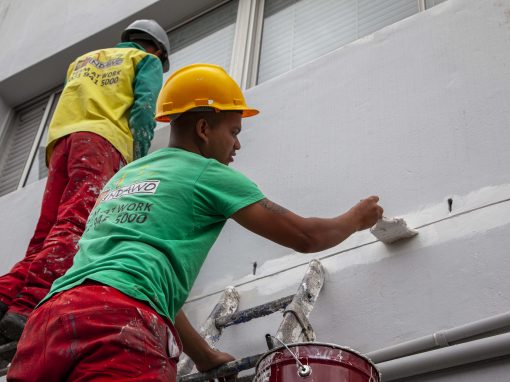 Contact Details
Need assistance for your roofing, waterproofing, asbestos removal, structural and spalling repairs, painting, flooring or heritage building projects in Cape Town, Western Cape? Contact us or use our quick contact on the left to request a quote, or send us an email to info@indawo.biz. Our consultants are eagerly waiting for your call!
Cape Town, Western Cape
Unit 2, Transnet Park, Robert Sobukwe Road, Bellville, Cape Town, Western Cape, 7530
Tel: +27 (21) 941 5000 | Email: info@indawo.biz