You are now in the world of Indawo.
For building refurbishment, roofing, painting, waterproofing and asbestos removal needs in Cape Town, Western Cape and Johannesburg and Pretoria in Gauteng and Tshwane, Indawo is a leading, trusted and solutions-driven refurbishment and roofing contractor, offering solutions for all projects. Indawo is a member of International Federation for the Roofing Trade (IFD), bringing international standards to South Africa.
We guarantee quality of workmanship, backed by reputable product manufacturers' guarantees, while ensuring 100% compliance with industry bodies' guidelines and statutory laws governing the construction industry, giving our clients and staff total protection.
Want to see some of our projects; CLICK HERE
Is compliance important to you? We are fully compliant. CLICK HERE 
Have a look at our TV advert; CLICK HERE!
Building Refurbishment | Roofing | Painting | Waterproofing | Asbestos Removal
Your building maintenance challenges gets the right solution from 1 contractor: Indawo.
Indawo is an approved contractor for Dulux, Plascon, Prominent Paints, Sabre Paints, Midas, Global Roofing Systems, a.b.e waterproofing systems and Sika.
Indawo's building refurbishment from roof to floor, and everything in between, offers precise solutions for commercial buildings, sectional title complexes and retail, industrial, commercial, office and historic buildings. 
Painting, waterproofing, roofing, asbestos removal and building refurbishment
Check out some of our projects below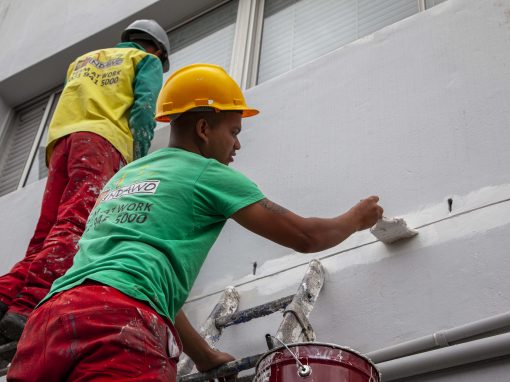 number of jobs Indawo completed in 2 years
Browse Indawo's History and view our achievements:
Indawo sponsored the labour for the television series 123Fixit that appeared on DSTV Channel 147, which airs every Thursday at 17h30 with repeats on Saturdays.Here Indawo's labour assisted the contestants with building refurbishment, roofing, painting,...
read more
Let's have a chat...contact us today.
Need advice from floor to roof, and everything in between? Use our quick contact on the right, or send us an email to
info@indawo.biz
 and one of our super-efficient staff will be in touch in a flash. 
Do let us know where you heard about us.
Cape Town Branch Unit 2, Transnet Park, Robert Sobukwe Road, Bellville, Cape Town, Western Cape, 7530 Tel: +27 (21) 941 5000 Fax: +27 (21) 946 3366 Gauteng Branch 166 Golf Club Terrace, Constantia Kloof, Roodepoort, Johannesburg, Gauteng, 1709 Tel: 086 146 3296 Fax: +27 (21) 946 3366
Cape Town Branch
Unit 2, Transnet Park, Robert Sobukwe Road, Bellville, 7530
Tel: +27 (21) 941 5000
Gauteng Branch
166 Golf Club Terrace, Constantia Kloof, Roodepoort, 1709
Tel: 086 146 3296