Building Refurbishment Roofing Painting Waterproofing Construction
You are now in the world of Indawo.
Building Refurbishment Roofing Painting Waterproofing Construction and Asbestos Removal Contractor in Western Cape and Gauteng
For building refurbishment, roofing, painting, waterproofing construction and asbestos removal needs in Cape Town, Western Cape and Johannesburg and Pretoria in Gauteng and Tshwane, Indawo is a leading, trusted and solutions-driven refurbishment and roofing contractor, offering solutions for all projects. Indawo is a member of International Federation for the Roofing Trade (IFD), bringing international standards to South Africa.
We guarantee quality of workmanship, backed by reputable product manufacturers' guarantees, while ensuring 100% compliance with industry bodies' guidelines and statutory laws governing the construction industry, giving our clients and staff total protection.
Want to see some of our building refurbishment projects; CLICK HERE
Is compliance important to you? We are fully compliant. CLICK HERE 
Have a look at our TV advert; CLICK HERE!
Your building maintenance challenges get the right solution from 1 contractor: Building Refurbishment Roofing Painting Waterproofing Construction all from Indawo.
Indawo is an approved contractor for Dulux, Plascon, Prominent Paints, Sabre Paints, Midas, Global Roofing Systems, a.b.e waterproofing systems and Sika.
Painting, waterproofing, roofing, asbestos removal and building refurbishment
Check out some of our projects below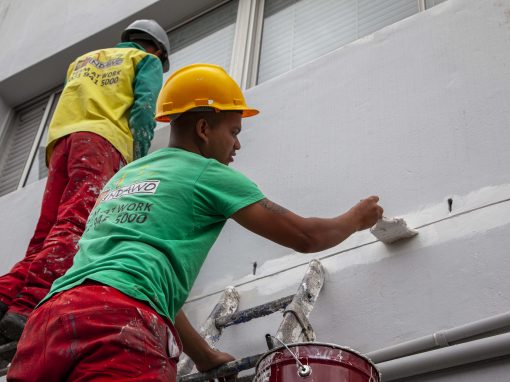 number of jobs Indawo completed in 2 years
Browse Indawo's History and view our achievements:
WINNERS MBA NATIONAL HEALTH & SAFETY COMPETITION All the winners of the 2019 Master Builders SA National Safety Competition Plant Yard and Manufacturers Section•Plant and Storage Yards – Vice President's Shield1st Place: WBHO Construction (Pty) Ltd...
read more
Let's have a chat...contact us today.
Need advice from floor to roof, and everything in between? Use our quick contact on the right, or send us an email to
info@indawo.biz
 and one of our super-efficient staff will be in touch in a flash. 
Do let us know where you heard about us.
Cape Town: Unit 2, Transnet Park, Robert Sobukwe Road, Bellville, Cape Town, Western Cape, 7530 Tel: +27 (21) 941 5000 Fax: +27 (21) 946 3366 
Cape Town
Unit 2, Transnet Park, Robert Sobukwe Road, Bellville, 7530
Tel: +27 (21) 941 5000